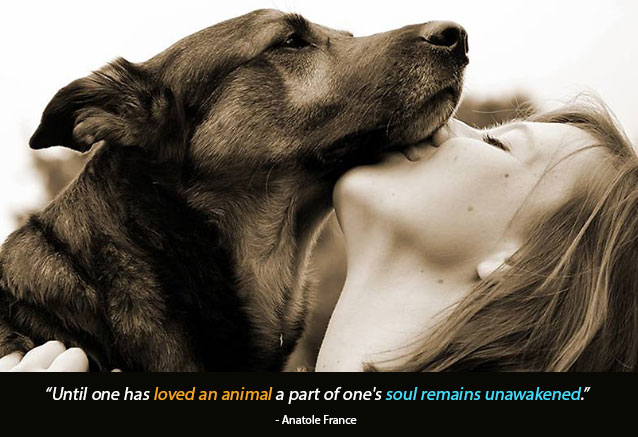 ABOUT
Petite Feet Pet Care
The #1 Westmoreland County Pet Sitters, Dog Sitters & Dog Walkers
Zero Discrimination

We respect, love, and care for all animals of every species, breed, size and shape.

100% Professional

We are a licensed, bonded and insured professional pet care company.

12+ Years in Business

Established in 2007, we've been serving the towns of Westmoreland County for over 12 years.

One Small Team

Our small team of Westmoreland County pet sitters and dog walkers will become an extension of your family (and new friends).
Meet the #1 Pet Sitters in Westmoreland County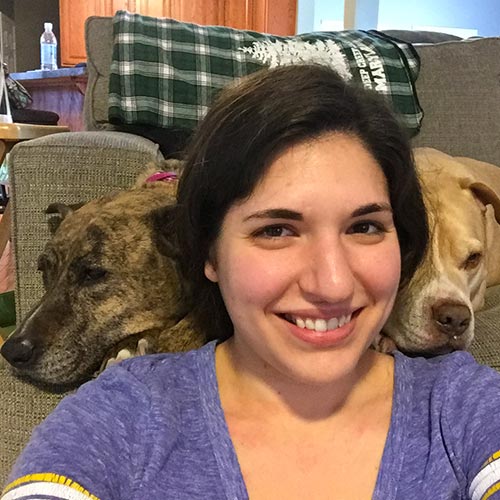 MYLYSSA WILSON
Prior to leading her pack of Westmoreland County pet sitters at Petite Feet Pet Care, LLC over 12 years ago, owner Mylyssa Wilson had volunteered for many years at a local animal shelter, Animal Keeper's Rescue, Inc., and also worked for several years as a kennel technician and activities personnel at a dog daycare and kennel facility.
She has extensive knowledge and experience with Pet First Aid and CPR, animal massage, hydrotherapy, emergency care for wounds, bites, heat exhaustion and hypothermia, proper ways to approach and handle an aggressive dog, common allergies of specific breeds and how to treat them, administration of medications, and animal psychology and behavior.
Mylyssa also has special interest and education in animal nutrition for the optimal, long-lasting health of our four-legged companions.
At home, Mylyssa is a busy, loved, and proud Mom of a few furry kids of her own:
Scoops - a 13 year old male Chihuahua, Lady Day and Lester - two of the sweetest cats to exist, Giddeon - a gorgeous Green Bottle Blue tarantula raised since a baby, Lewis - a friendly little Betta fish, Painter - a 29 year old, 16.2 hand, registered Paint jumping horse, and Warrior - a 32 year old Paint Quarter Horse.
---
In Her Own Words
"Through my work with animals, I have come to realize that there are very few things more meaningful to me than pets living in complete harmony with their people. It's such a beautiful state to be in, and I get to help maintain that state for so many people for a living. It's my life's calling and I'm blessed to be able to live it every day."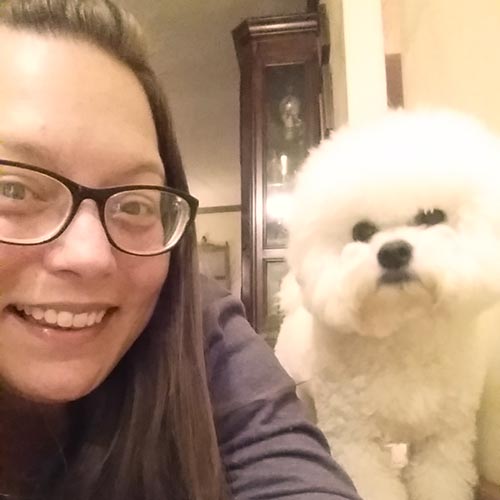 BRIDGET
Bridget makes friends with any pet she meets!
By day, she is a pet's BFF and by night, she is a Dog-Mom to a Jack Russel/Chihuahua rescue named Stella. Stella is one of many pets who have owned Bridget's heart, including dogs, cats, chickens, hamsters, guineas, and more.
Her last dog, Maggie, who was a vibrant 18 year old Chesapeake Bay Retriever, taught Bridget a lot about insulin administration, glucose testing, and diabetes management.
On her off days and in between visits, you can find Bridget in any one of the local state parks and forests hiking and exploring Westmoreland county, biking and being outdoors. Wait for the rainy days though - she's a mean cook in the kitchen and whips up some drool-worthy pet treats, too!
---
In Her Own Words
"As a professional pet sitter, I absolutely love every aspect of my job. From gaining the trust of a wary animal to giving belly rubs, I'll go above and beyond for my clients. Each family is unique and special, and I'm honored to be an integral part of each of them."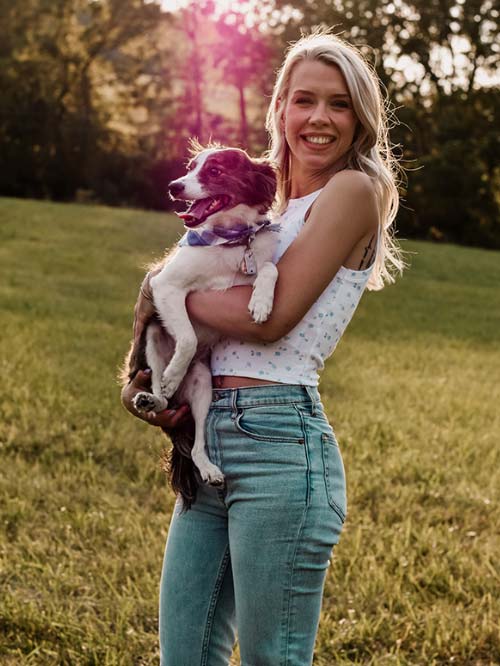 HALEIGH
Animals have consistently been Haleigh's biggest passion throughout her entire life.
Whether it's mucking out horse stalls, befriending a grumpy cat, or cuddled up on the couch with a 70lb wanna-be "lap dog," as long as she is around animals, she's happy.
She's been taught many valuable lessons and skills over the years through owning various types of animals, including dogs, cats, rabbits, horses, goats, reptiles, and many more.
Shortly before joining Petite Feet Pet Care, she was employed by a veterinary clinic where she gained knowledge on medication administering, signs of overheating and sickness, as well as just general pet health.
---
In Her Own Words
"Working at Petite Feet Pet Care is an absolute dream come true. I strive to provide pets with the same care I give my own, often referring to myself as a "crazy dog mom" because I'm always trying to give them the best life. I understand that each pet has their own special routines and needs, and I aim to not only give owners peace of mind, but also to give pets all the love they deserve!"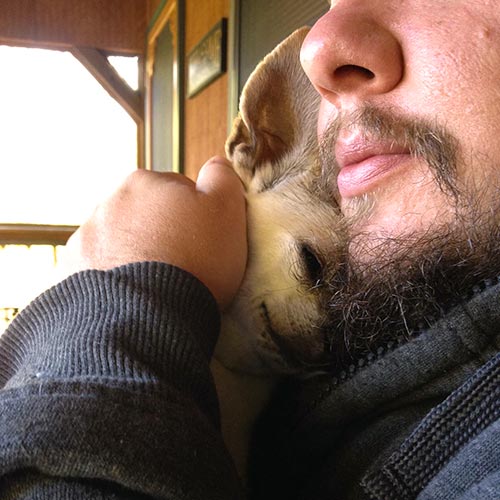 LACE
If he made a nickel each time an animal fell in love with him, he'd be a billionaire.
As our resident cuddler, pets are immediately attracted to his gentle, affectionate presence. From the tiniest Chihuahua to the largest Great Dane, we've yet to meet one that hasn't fallen in love with Lace (whom our clients lovingly refer to as "Mr. Bear").
His extensive knowledge of animal psychology mixed with his gift for natural dog training, all topped with a generous sprinkle of his gentle nature, makes him a client favorite.
---
In His Own Words
"I've had an insanely deep connection to animals since before I could even take my first step. Being able to communicate with them on such a level is something I hold very close to my heart and I wouldn't trade the trust they place in me for anything in the world. Being a professional Westmoreland County pet sitter has changed my life."